In the APK Teardown of the latest Android Messages app Android Police reports that there are chances that Google is getting ready to launch new feature for Android Owners similarly to Apple users have had for a while i.e. A desktop Interface for its official messaging app and enhanced SMS/RCS features for messaging.
There are strings that are the evidence that the Android Messages will be able to pair with a Web Browser and you can continue your conversation on a web version on a computer. Strings like :-
"Messages for Web"
"Scan your QR code"
"Sign out of all computers"
This sends a pretty clear message that the pairing process would be similar to Allo's.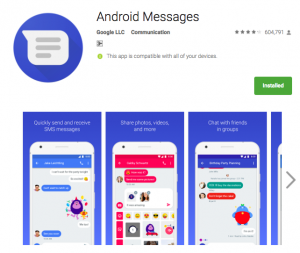 Google is working to bring the RCS to carriers around the world and they have recently enabled the RCS for carriers in South America which makes runs the service on Google' Cloud services.  According to the report from Android Police they also found strings such as
"New! Text over Wi-Fi and data"
"Chat features are powered by Google"
 "No, use SMS only"
This means that Google has already finished creating its own cloud based enhanced messaging system that can work independently of a local carrier and will be compatible  with those who have already implemented the RCS themselves.  This could also suggest that the we might see the announcement at Google I/O.
The final feature which we don't have much information is the payment to businesses. According to the strings found in the Android Messages app this will support payments to online retailers or local stores and businesses. The strings are like
"Buy with Google",
"Payments Summary"
"Checkout"
Company recently enabled the feature to send money to your friend's wallet powered by Google right from an SMS conversation. Google I/O will take place in May this year so we hope to see more information about these new features.
And Also Do Subscribe to Our YouTube Channel Gadget Gig For Latest News, Reviews, Unboxing and Tips/Tricks.