Today in the 41'st Annual General meeting in Mumbai Relaince announced the JioPhone 2 which will now be equipped with YouTube, Facebook and WhatsApp. These apps will work also on the voice command and now the user can play music or send a message through a voice command. Below are the specs of the JioPhone 2 :-

Operating System :- KaiOs
RAM:- 512 MB and 4 GB Storage
MicroSD Card Slot upto 128GB
2.4QVGA Display
2 MP Rear Camera and VGA Front Camera for Video calling
Dual- SIM, LTE,VoLTE & Vo-Wi-Fi
FM, Bluetooth, NFC and GPS
2000 man Battery
Facebook, YouTube & WhatsApp Support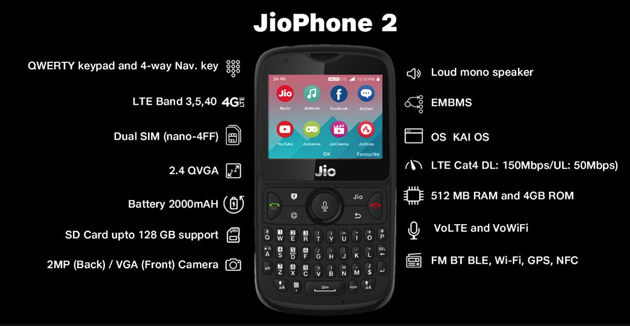 JioPhone booking will start from 15th August and existing JioPhone user would be able to replace their phone with JioPhone 2 by paying additional 500 Rs. The price of the JioPhone 2 for new users will be Rs. 2,999.
Apart from JioPhone 2 Relaince also launched its broadband and Fixed line service JioGigaFiber.
Stay tuned for more information and news on JioPhone 2 and Also Subscribe to our YouTube Channel Gadget Gig for more update!