Many music lovers in India have been asking for Spotify for the last few years and recently word came out about the popular music streaming app making its debut in India. There were an ample amount of rumors which followed for the last couple of months and now finally, Spotify has launched its subscription based streaming service in India.
A few hours before the app was officially launched on Android and iOS, folks at Gadgets 360 were able to showcase the pricing details of Spotify, which turned out to be accurate. As mentioned earlier, the app is available for free download on both Android and iOS platforms, however, the subscription-based offer is not available for Apple devices, just like Netflix, Spotify is also trying to avoid paying a cut to Apple.
As of now, the app is a little unstable since many of the users are receiving login errors which says, "Spotify is currently not available in your country". Also, Spotify seems to think I'm not in India and hence, I'm not able to download the app as of now from Play Store. These bugs will be fixed over time and you'll be able to stream your favorite music as you please.
Spotify is known for its arguably good suggestions and the visually well-built app. Upon signing up/logging in the app asks the user to choose a type of music you like and later on, Spotify can suggest you music according to your liking and the songs you've listened to recently. Bollywood, Punjabi, Tamil, and many other languages have been added and tons of genres too.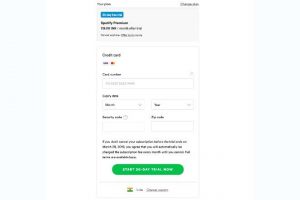 Spotify is a subscription-based music streaming app and to get the premium service the user will have to buy it. Spotify Premium in India is available at Rs. 119 per month. Also, you can buy the service for one day which will cost you Rs. 13. Rs. 129, Rs. 389 and Rs. 719 for seven days, 3 months and 6 months respectively. Spotify also offers half-off for student membership. As of now, Spotify does not provide family membership unlike Apple Music. You can download the app via the Play Store and App Store.