E-commerce giants such as Flipkart, Amazon, Myntra and many more tend to launch offers on such occasions. Flipkart today has announced that they will be hosting the Republic Day Sale.
The Flipkart sale will start on January 20 and will go on till January 22. In this sale, you'll find deals on electronic products such as mobile phones, laptops, TVs and many other accessories. Also, there will be an additional 26 percent discounts on particular products during given time and date which will be named under "rush hour".
The sale will be held on 20th which is three days away and Flipkart has already set up a dedicated page for this particular sale. The site promotes and features what deals will be available on the sale day and as per Flipkart, massive discounts will be made available on smartphones and up to 70-75 percent discount on TV and appliances. More discounts to electronic accessories up to 80 percent.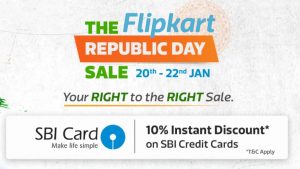 Also, discounts will be provided to the users who are willing to. Pay via SBI credit cards, they will receive a total of 10 percent instant discount on the product upon paying via the card. Along with this, Flipkart is also offering exchange offers on mobile phones, TVs, Laptops and other home appliances. No-cost EMI on Bajaj Finserv cards and also on some select banks.

The rush hour sale as mentioned earlier will be held on all the three days starting from 2pm-6pm make sure to attend this rush hour sale because you'll for sure find something useful for your use. Also, this sale will bring up to 70 percent discount on Flipkart brand products and a special 10 percent discount on products worth Rs. 1,450 and 15 percent on products worth Rs. 1,950.
The Flipkart Republic Sale will be held on January 20 and will run through January 22 make sure to be logged into your app or on the browser to make the purchases. Also, Amazon India is hosting the Great India Sale yet again which will be held from January 20 to January 23 with deals on various smartphones, TVs and etc.