Google has finally unveiled its First Standalone VR headset – Mirage Solo. Unlike other Virtual reality headset this newly launched headset doesn't need a smartphone or a PC to work. Users now can simply put on the headset and enjoy the content of DayDream VR platform without any need of mobile. The best part is there will be no wire hanging here and there giving the user better experience.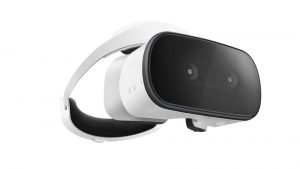 Google has Teamed up with Lenovo to build this VR headset. And expert says that after this Google is expected to launch one of their own in future. Mirage Solo Headset has the Google's WorldSense tracking system which will enable you to walk around a virtual space using this headset. Lenovo says that this new feature will enable you to interact with VR games For Eg. "Duck an incoming dodgeball, bank left with your snowboard, or jump over a hurdle." The Company has also plans to introduce an "impressive suite of apps" at the time of official release.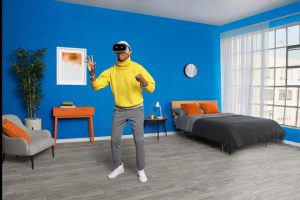 According to us this new headset is major evolution for VR headsets because it simply works on its own. Unlike the Previous DayDream headsets or the Samsung Gear VR which needs a DayDream Smartphone or a Samsung Smartphone to dock in.
There are also some expensive headsets such Vive or the Facebook's Oculus Rift that need a powerful pc to work with. But Mirage has everything inside and talking about the Tech Specs it has a build in 5.5-inch LCD screen that will deliver 1280X1440 to each eye. Headset has the 4 GB RAM and 64GB storage for downloading games and media.
In terms of battery it the headset will be able to give 7 hours of battery life which in our opinion is more than enough for a session of DayDream. Apart from the headset you will be also getting a motion sensitive remote that lets you use your hands to interact with games. The remote features a clickable trackpad, app and home buttons and also the volume up and down button something similar to the previous day dream headset but in different form factor.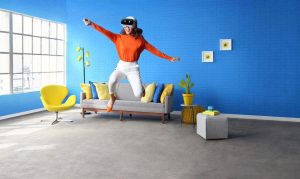 Lenovo has also talked about the controller that it can be used as a baseball bat, steering wheel or whatever else game developer decide to create.
There is no confirm pricing yet of this headset but Google says it will be below $400. If thats true than it will put the headset in between the Oculus Go which is priced at $200 and the HTC Vive $600.
Comment below if you think that at $400 price would you wait for this or buy an Oculus Go.
And Also Do Subscribe to Our YouTube Channel Gadget Gig For Latest News, Reviews, Unboxing and Tips/Tricks.