Apple has announced yesterday tits brand new iMac Pro all in one Desktop will be available to order from 14th Dec 2017. This will be the latest in there iMac lineup, and will target professionals to give them a top of the line experience and people who doesn't mind spending $4999 on this new iMac Pro.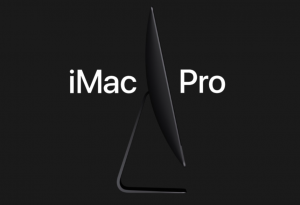 The company's Vice president says that the this New Lineup will be a "huge step forward and there's never been anything like it" The target market for this high configuration powered machine will be professionals in intensive industries, who needs a high level of processing power such as graphic designers, or people who deal with the 3D modelling and rendering.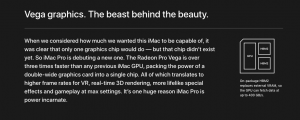 You would be able to configure the option as per your requirement but the $4,999 'starter' model ships with an 8-core Xeon processor, 32GB of RAM, 1TB of solid-state storage and a Radeon Vega Pro graphics chipset with 8GB of RAM. You can option it with up to an 18-core Xeon, 128GB of RAM, a 4TB SSD and a 16GB Vega chipset, although some expert says that you'll have to wait until the new year for that 18-core beast. The iMac Pro also features Stunning 5K Retina 27 inch Display, magic trackpad 2, magic mouse 2 and a matching Space Grey Magic keyboard with the elegant looking looking space design of the this AIO.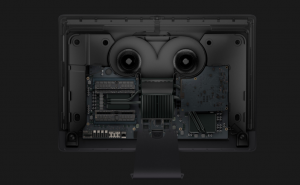 The iMac Pro features four Thunderbolt 3 ports, a 10 Gigabit Ethernet port, four USB-A 3.0 ports, and a slot for an SD card just in case that 4TB isn't enough storage , and also comes with a 3.5mm headphone jack.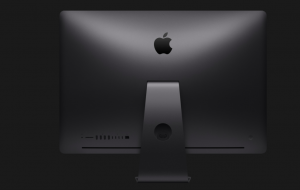 The iMac Pro is in many ways will fill the gap which is meant to provide something  new to media creators. Its still likely to blow away the 2013 Mac Pro in terms of its performance and design. Comment below would you buy this Powerhouse at this price??
And Also Do Subscribe to Our YouTube Channel Gadget Gig For Latest News, Reviews, Unboxing and Tips/Tricks.