PUBG recently had teased the release of their upcoming map which had created a lot of hype around the community. Since PUBG had scheduled 7th December as the date of the official launch of PUBG for PS4 they gave us a little more to rejoice.
On December 7th, PUBG on its official social media handles published a small teaser of the snow map also known as Vikendi. The tweet as seen below gives us a small detail of how the map would look like. Vikendi as started showing up on PUBG PC test servers starting yesterday and the official launch is set to be on December 19. While the Xbox One and PS4 launch are set to be in January 2019.
Vikendi is not the only update we'll be seeing, a new assault rifle(AR) mostly known as G36C has been launched alongside new vehicles for the snowy map. Now you can use the snowmobiles to roam around the Vikendi map. The Vikendi map is a 6×6 snow themed map which lays in the northern island based on Mount Kreznic. The main highlight of the map is that you'll know whether someone had been in that particular place before because they leave behind footprints, also there may be a night mode added to it pretty soon.
Introducing Vikendi: A brand new map wreathed in snow. Winter has come to #PUBG and you'll need to adapt if you want to survive.

Play Vikendi starting tonight on PC Test Server! Launches on PC Live Server Dec. 19 and in January for PlayStation 4 and Xbox One. pic.twitter.com/gUzZQgJ2WI

— PUBG (@PUBG) December 7, 2018
The G36C will be replacing the ScarL on Vikendi and will be exclusive. It used the 5.56ammo just like the ScarL and comes with upper and lower attachments but doesn't entertain a stock. The Snowmobile is basically for two players as you might have assumed and its perfect for snowy conditions.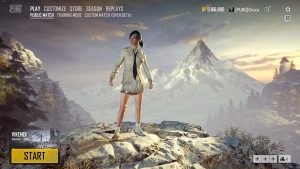 As for the PUBG Mobile players, we published an article covering the patch notes of the upcoming update 0.10.0 which according to rumors might now include the "Vikendi" map. The update will be made official on December 20 and if the map arrives with the update then it'll be available for matchmaking the next day. The new update will also ban players who exit the match while in the lobby, it'll start as a temporary ban but will increase. It's similar to the ban system on CS:GO, while we are on that topic CS:GO is now free-to-play and it comes with a Battle Royale mode as well.
Also, now PUBG Mobile will let users collect daily rewards with just one button and a new cross-server matchmaking update wherein players can be matched with users from different servers with the same tiers.