After the launch of iPhone 8 and iPhone X there were lots of reports from previous/older iPhone users that their phone is getting noticeably slower. There are theories about why and how apple is slowing down Older Generation iPhones which forces them to buy the Latest iPhone are doing the rounds every now and than.
Here is an example of what it actually means. According to one user densvedigegris that It is very clear from the graph, that the iPhone throttles performance on the old battery, while the new battery has the same performance throughout the battery cycle.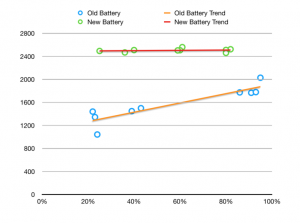 So it started with a post by John Poole a reddit user which shows the different benchmark scores with older and new battery.
Apple issued a statement to TechCrunch:
"Our goal is to deliver the best experience for customers, which includes overall performance and prolonging the life of their devices. Lithium-ion batteries become less capable of supplying peak current demands when in cold conditions, have a low battery charge or as they age over time, which can result in the device unexpectedly shutting down to protect its electronic components.
Last year we released a feature for iPhone 6, iPhone 6s and iPhone SE to smooth out the instantaneous peaks only when needed to prevent the device from unexpectedly shutting down during these conditions. We've now extended that feature to iPhone 7 with iOS 11.2, and plan to add support for other products in the future."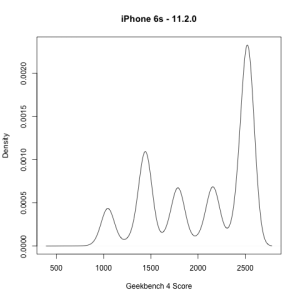 According to the John Poole benchmarks it shows the result of a power curve-smoothing algorithm that Apple rolled out last year to fix the iPhone shutdown issues.
To explain better Apple is capping the processor power lets in the iPhone 6S from 1400 MHz to 600 MHz in order to get more battery life. This is the characteristics of the lithium-ion battery and its not just Apple issue or any other company issue. Lithium-ion batteries starts to degrade over time. Its not clear that if this is an attempt to make older phones work for longer with less issues.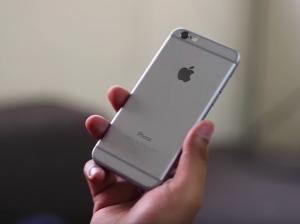 But we think that Apple should give this an option to select if the user prefer battery life over performance. And Apple might not be only one doing this secretly.
What do you think about the performance of your older iPhone. Comment below if you prefer battery over performance.
And Also Do Subscribe to Our YouTube Channel Gadget Gig For Latest News, Reviews, Unboxing and Tips/Tricks.