According to recent Data by Canalys Apple Sold a record breaking 18 Million smartwatches in 2017 and out of those almost half were sold in the Last Quarter. Out of these 18 Million shipped Apple Watches approx. 9 million were the latest Series of Apple Watch Series 3 and according to the data the LTE powered Apple Watch Series 3 is the fastest selling LTE watch in the market and company sold total of 1.6 million units.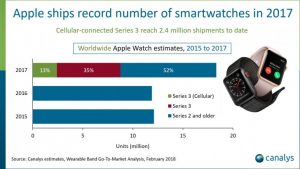 "The cellular version of the Apple Watch was in strong demand in the US, Japan and Australia, where all major operators stocked it in time for the holiday season," said Vincent Thielke, Research Analyst at Canalys.
"Apple has won the wearables game," said Jason Low, Senior Analyst at Canalys.
In terms of comparison this data shows that the sale number of smartwatches saw a hike of 32% over last year Q4 and overall 54% higher shipment as compare to the 2016.
And Also Do Subscribe to Our YouTube Channel Gadget Gig For Latest News, Reviews, Unboxing and Tips/Tricks.