The era of foldable smartphones has started, also, its time for 5G to make an entry into the markets. Well, this is not the first time we are hearing about a foldable smartphone. In 2018, there were multiple reports claiming that the future is with the new foldable devices since tech giants Samsung, Xiaomi and others joined the bandwagon of showcasing their prototypes of the foldable devices out in the open.
Huawei has also joined the party by confirming that the company is working on a foldable 5G smartphone which may be launched in the upcoming Mobile World Congress (MWC 2019). Few days after announcing the same, the company has come forward and has started sending out press invites to media bloggers and YouTubers. The Chinese company shared the press invite on Twitter for the event which is to be held in Barcelona on 24 Feb at 2 PM CET.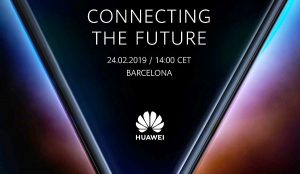 The image shared by the Twitter handle of Huawei shows us the outline hinge of the foldable phone which according to me is a masterpiece from the graphics team of Huawei, the text on the image says, "Connecting the Future" with the date, time and venue written below it which is accompanied by the Huawei logo.
As of now, there is no word about the specifications the device will carry, however, it is expected to be powered by the company's latest and the most powerful Kirin 980 SoC along with the Balong 5000 modem. According to reports, Huawei's Foldable smartphone is said to feature a 7.2inch display. Huawei will be starting off the production of the device with just 25,000 units at the start and later will increase upon demand from the public.
What do you guys think about the new foldable era? Since, Xiaomi, LG, and Samsung also seem to join the bandwagon what are your thoughts on the future of smartphones. Let us know down below in the comments. And stay tuned to GadgetGig.