Xiaomi's sub-brand Redmi has been doing very well for the past few years, mostly because it has covered the budget market all by itself. Recently, they joined hands with Google's Android Go program which basically provides a decent device at a very low price bracket. Also, a device from the same program was leaked a couple of days ago, the report showed a smartphone with a 5inch screen and a Qualcomm Snapdragon 425 processor, although, it is not yet confirmed by the company.
Xiaomi on 28 Jan tweeted about the Redmi Go which sports a 5inch HD screen and is powered by an unspecified processor, however, some reports claim the device will be powered by the entry-level Snapdragon 425, although, confirmation from the company is yet to be received.
The report also showed the device bearing an 8-megapixel rear camera with LED flash and to the front is a 5-megapixel selfie shooter. As of now, the OS is also not sure but its most likely to be the Android Oreo 8.1 (Go Edition). This will not be Xiaomi's first attempt at Android One program since the Mi A1 and Mi A2 did very well in the market since its initial days.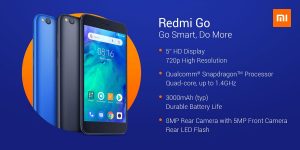 The tweet by Xiaomi said, "GO" for something new! Today, we're introducing the new #RedmiGo. RT if you'll be getting one #GoSmartDoMore. An image attached to the tweet revealed some. Of the specifications as seen above and it seems there will be two color variants to the device, Black and Blue. As of now, the pricing of the device has not yet been included anywhere but very soon the device will be hitting the Indian markets competing against the recently launched Samsung M10 and the Realme C1.
WinFuture, a German website reporter about a Redmi phone which allegedly is the Redmi Go and it even matches the specifications from the tweet. The device in the report consisted of a 1GB RAM and 8GB inbuilt storage and the device was powered by the Qualcomm Snapdragon 425 SoC. According to WinFuture, the Redmi Go is said to go on sale from February in the European markets and will sell for around EUR 80 (approx Rs. 6,500).