Xiaomi Reveals that they will be launching the Redmi 5 and Redmi 5 Plus on December 7th. Company's Global spokesperson, Donovan Sung has revealed rendered images of its all new Redmi 5 & 5 Plus in a tweet yesterday.
After number of rumours and leaked  images we finally have the official look at the device which looks interesting. Since the company's announcement of there new devices somehow supported the leaks which means apart from Design we expect the hardware specification of the device to be the same as leaked info.  The images which are leaked shows the three different colours from different angels. The three colours are Black, Pink & Blue.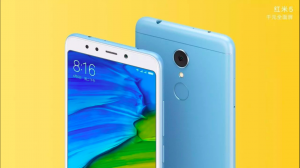 Redmi 5 & 5 Plus will be the company's first  18:9 aspect ration device which will come in all- new tall form factor. This will allow phone buyers to use the all new 2017 flag-ship design in low cost.
Apart from the All New screen front the device features a single 12 MP camera on the rear panel and a 5 mega pixel Front shooter.
Both the Redmi 5 and 5 Plus will come with the latest MIUI 9 out of the box. And as per the leaks the Redmi 5 will feature a 5.7 inch full display as compare the 5.9 inch display in the Redmi 5 Plus.
In terms of Processor we will have 1.8 GHz Snapdragon Processor in Redmi 5 and We might see a powerful 600 Series Snapdragon Processor in the Redmi 5 Plus.
In terms of Battery we might see the 3200+ mAh battery in the Redmi 5 and 4000 mAh battery in the Redmi 5 Plus.
And lastly the device will be available in the storage option of 16GB, 32Gb and 64 GB Variant.
So what do you think about the Redmi 5 and 5 Plus. Are you also excited about these Flagship looking Xiaomi Phones.  Let Us know in the Comment Section Below.
And Also Do Subscribe to Our YouTube Channel Gadget Gig For Latest News, Reviews, Unboxing and Tips/Tricks.